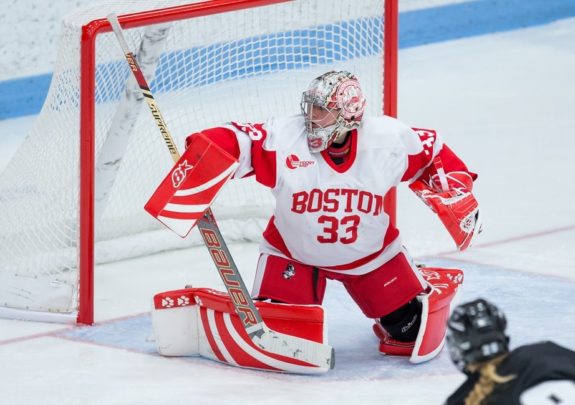 The Boston Pride have finally nabbed a goalie to be their last line of defense. Word was released on the morning of Aug. 14, 2019 that Boston University alum Victoria Hanson had been signed by "the Pack". In addition to being the first netminder that Boston adds to their 2019-20 NWHL roster, Hanson is their 14th signing overall.
Former @TerrierWHockey goalie @vics_33 is joining #ThePack! 🦁
📝 https://t.co/ow4grJ1RZK pic.twitter.com/2SkbXHRcUF
— Boston Pride (@TheBostonPride) August 14, 2019
"Vic is a solid goaltender who plays her angles very well, always using her size to her advantage," said Pride general manager Karilyn Pilch in the press release for the signing. "She is also very smooth in her edges and is always in position to make multiple saves."
Hanson suited up for BU from 2013-14 through the 2016-17 season. A native of Stoughton, Massachusetts, she will turn 25 years old just days before the league's fifth season gets underway.
A Solid Wall for the Terriers
Standing at 5-foot-9, Hanson has ideal size for a goaltender. She saw the bulk of the Terriers goaltending duties in both her sophomore and senior seasons at BU. Hanson certainly had some of hockey's best challengers when it came to any Terriers' practice, as her teammates included talented stars like Marie-Philip Poulin, Maddie Elia, Rebecca Russo, and Shannon Doyle.
Victoria Hanson makes a save against the Providence College Friars during NCAA action at BU's Walter Brown Arena on September 25, 2016. (Photo Credit: Rich Gagnon)
By the end of her fourth NCAA season, Hanson had played in 69 career games. Her winning record of 40-22-6 sits nicely alongside her 2.49 goals-against average and .914 save percentage for final totals.
Hanson's numbers reigned supreme during her senior season at BU. Not only did she set career highs for games played (28) and save percentage (.927), but she earned a wide variety of accolades. Hanson was named a Hockey East First Team All-Star, in addition to being the conference's Goaltending Champion, a Distinguished Scholar, an All-Academic, and a New England Division I All-Star.
Time to Bring Her Game to the NWHL
After graduating from BU, Hanson played the 2017-18 season in Germany's Frauen-Bundesliga. She played 20 games for Kurpfalz Ladies, and posted a 4.09 goals-against average, while seeing the bulk of the team's goaltending duties.
Not playing professionally during the most recent 2018-19 season, Hanson appears poised and eager to make her NWHL debut.
"I'm really excited to join the Boston Pride and NWHL for this upcoming season," Hanson said in the press release. "Taking a step back with a year off from the game last season was extremely hard, so I can't wait to get back out there with a group of very talented players." She then added, "I am eager to see where the NWHL's fifth season takes both the Pride and women's hockey as a whole."
Victoria Hanson played one season in Germany after completing her four-year NCAA career with Boston University. (Photo Credit: …read more
Source:: The Hockey Writers
(Visited 1 times, 1 visits today)